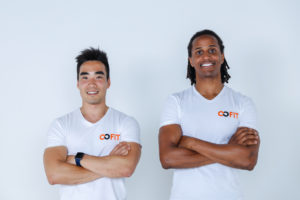 I'm so happy to finally announce the fitness startup that Menya and I have been working on! This is only the first step, but our ambitions are large. We aim to change the global culture of fitness through CoFit programs, products and services that disrupts the trend of the solitary pursuit of self-perfection.
Follow Us: Facebook | Instagram | Linkedin
The slogan and philosophy of CoFit is "Connection People Through Fitness" and the first three services we will launch with are:
Fitness Team Building | Corporate fitness programs inspired by SOGO Fitness workouts that emphasizes employee connection, playfulness, accessibility and inspiration.
Partner Resistance Training | A new style of fitness that is inspired by combining the best of weight lifting, calisthenics and partner workouts. It does not require specialized equipment, only the trust of a partner. We hope to have this fitness program accredited by NASM/NSCA by the end of the year.
Consulting & Advisory | We bring our expertise in program development, events management, onsite training and community building to enhance the your next fitness campaign, initiative or event.
But, it doesn't end there. We are also developing more innovative certification programs, a music production service, more novel corporate services and even a book!
If you or your organization has any interest in any of our services, please don't hestitate to contact Menya or I! We'd love to see how we can help bring our expertise in community building, employee wellness & engagement, and creating an inspirational & healthy environment.